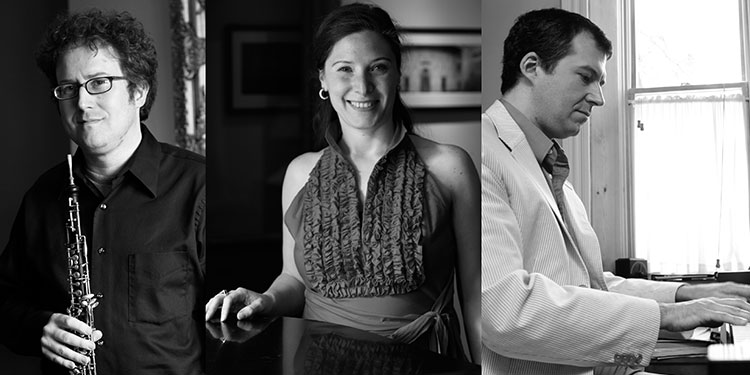 The members of the Alabaster Trio have been performing together for the past five years. They are three of the founders and producers of the Living Room Chamber Music Project concert series, and have presented concerts all across the metropolitan Pittsburgh area in spaces large and small. They specialize in finding unique and diverse classical repertoire, regardless of time period, geography or genre.
Mezzo-soprano Raquel Winnica Young earned her Degree in Vocal Performance from the Colon Opera House in Buenos Aires and an Artist Diploma from Duquesne University. A winner of the 2010 Pittsburgh Concert Society Major Auditions as a soloist, she has performed locally (Quantum Theatre, Apollo's Fire, Chatham Baroque, Johnstown Symphony, Pittsburgh Camerata, Alia Musica, Pittsburgh Baroque Ensemble), as well as in Europe, North and South America. In January 2014 she joined the voice faculty of Indiana University of Pennsylvania.
Lenny Young, oboist and composer, is Principal Oboe of the Altoona Symphony Orchestra and has performed with the Pittsburgh, Wheeling, Johnstown, Westmoreland and McKeesport Symphonies. He is a member of Alia Musica Pittsburgh and teaches oboe, music theory and solfege at Pittsburgh CAPA 6-12. He holds BFA and MM degrees in oboe from Carnegie Mellon University.
Pianist Jack Kurutz is an avid recitalist and chamber musician with a diverse repertoire. He received his undergraduate degree from the University of Miami and his Master of Music from New England Conservatory. In 2005, Jack completed an Artist Diploma from Carnegie Mellon University. In September 2007, he won First Prize in the William Garrison Piano Competition and was also a finalist in the 2009 Simone Belsky Competition.