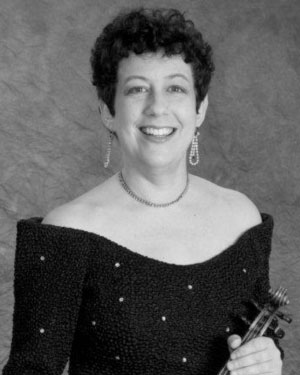 A native of Pittsburgh, violinist and violist Linda Fischer was born into a family of string players. After a year of piano lessons, her father, a former violist in the Pittsburgh Symphony Orchestra, started her on the violin at age 6. Her high school years were spent at the North Carolina School of the Arts, where she served as concertmistress and soloist with the orchestra. She holds Bachelor and Master of Music degrees in violin performance with high distinction from the Indiana University School of Music in Bloomington, Indiana, where she studied with Franco Gulli.
Linda performed with the Buffalo Philharmonic Orchestra, both as section player and guest soloist, before her appointment to the Pittsburgh Symphony in 1985. She frequently performs in solo and chamber music concerts in the Western Pa area, as well as in other parts of the country. She has appeared as a soloist with the Pittsburgh Symphony at Hartwood Acres. As guest concertmistress, she performed as a soloist on many occasions with the Jewish Community Orchestra and Edgewood Symphony. She enjoys coaching the Pittsburgh Youth Symphony young string players, and has served on the faculty of the Masterworks Festival in Winona Lake, Indiana.
Linda has many wide ranging interests, which include photography, travel, bicycling and the outdoors and swing dancing. She is strongly committed to her Messianic Jewish faith and actively participates on the musical worship team at her local congregation.